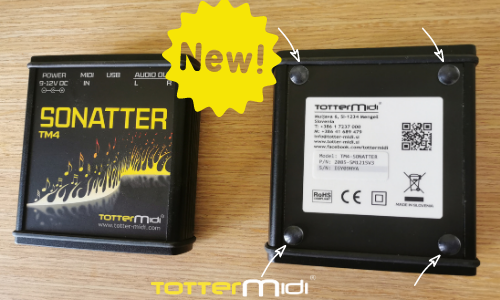 N E W ! Anti-slip pads for SONATTER
The sound module SONATTER now equipped as standard with anti-slip feet pads on a smooth surface and for protection against scratches.
Anti-slip self-adhesive pads ensure an even more stable position of the SONATTER on a shelf, table, board or other smooth storage surface. The pads protect the SONATTER from scratches.
Features:
– colour: transparent
– dimensions: 10×3 mm / fi 10mm, height 3mm
– adhesion: self-adhesive
– no. of pieces: 4
That playing the accordion with installed TOTTER MIDI system and sound module SONATTER will be even more fun.
We are at your disposal for professional advice or assistance in purchasing TOTTER MIDI products.

Learn more about upgrading your diatonic, piano, chromatic accordion at:
Web
Facebook
Instagram
You Tube