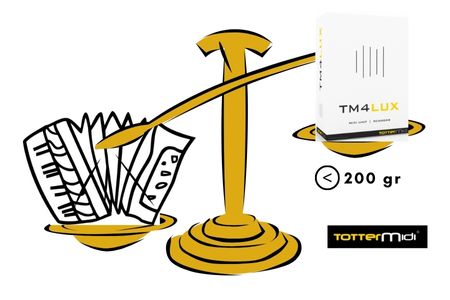 TOTTER MIDI for accordion on the scales
Accordionists inquire about a wide variety of technical and practical features before purchasing a TOTTER MIDI system. Some people ask us a (perhaps at first glance) strange question, which we reveal to you in this article, namely:
"How much heavier would be my accordion after installing TOTTER MIDI system?"
Very interesting question, which is why we at TOTTER MIDI made a practical test.
We placed the vital components that make up the TOTTER MIDI system on a calibrated digital scale. The MIDI electronic circuit, control panell, socket, connectors, sensors, magnets, connecting cable through the bellows and other small material were weighed.
CAN YOU GUESS WHAT VALUE WAS DISPLAYED ON THE SCREEN?
Let us tell you. The complete TOTTER MIDI system weighs less than 200 grams, the bass system even less. Compared to the weight of a diatonic or piano accordion, it is therefore a negligible value, which in no way affects the additional burden on the accordionist. Not even when playing the accordion for a long time.
The TOTTER MIDI system is with new MINI control pannel even lighter than its previous series.
You can read more about it HERE.
In addition to minimal weight, all electronic components are top quality. Even the smallest built into your accordion measure just 0.3 x 0.6 mm.
They ensure reliable and fast operation in all circumstances, and economical and miniature circuits ensure low power consumption.
You can find more about the products HERE.