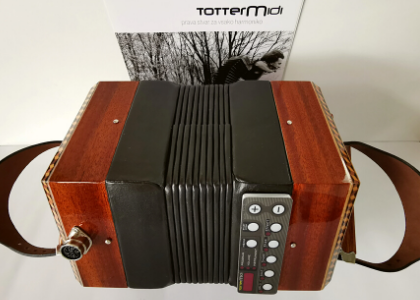 A Close Encounter With An Unusual Accordion
For a quarter of a century, TOTTER MIDI has been installing its own, home-developed midi systems, mostly in diatonic and piano accordions, as well as in chromatic accordions.
This time, however, we can talk about a close encounter with an unusual accordion.
The new challenge that we successfully carried out was the so-called concertina, in which we installed a complete midi system for the first time at all.
Concertina is a small quadrangular or hexagonal accordion with buttons on the left and right, interconnected by bellows. We hold it in straps with our hands and usually play on our knees. It was developed in England and Germany. Concertina versions are used for performing classical music, traditional folk music of Ireland, England and South Africa, and for tango music.
With the installed TOTTER MIDI system anglo concertina – a hybrid between English and German concertina, from now on in the hands of the musician next to natural sounds, plays a variety of sounds of other accordions and other instruments as well.
It is a COMPLETELY ELECTRONIC INSTRUMENT without reeds.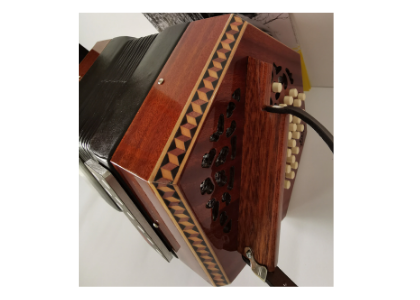 At TOTTER MIDI, every system – midi and microphone, is professionally installed on request. Each installation is treated individually. We know how to listen to the wishes of our clients. Good and professional advice is always welcome and you will definitely get it from us.