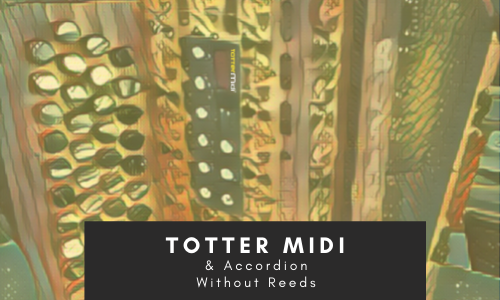 MIDI In Accordion Without Reeds
The accordion is still one of the most popular musical instruments. It is played by pressing the keys and buttons and pulling the bellows outwards and pushing inwards. The right treble side and the left bass side are connected to each other by bellows. This supplies air to the reeds, more precisely to the metal part that swing and create sound. Without the reeds, the accordion is silent and does not work.
This changes if there is in an empty accordion – such without reeds, added electronics or. installed TOTTER MIDI system on both sides of accordion.
Let's say what happens if TOTTER MIDI is installed in a reedless accordion?

In this case accordionist:
– plays all songs regardless of the written major or key (eg: CFB, BEsAs, CisFisH, etc.)
– play in silence – with headphones
– does not need a second, third or even fourth button box accordion of different major
– can forget about carrying accordions and suitcases
– plays the lighter accordion
– with the connection of the sound module SONATTER*, plays live the sounds of various accordions
* optional installed in accordion
The advantages of MIDI in accordion without reeds have been recognized by both amateur accordionists and established professional musicians.
Is this news interesting for you too? Then do not hesitate and contact us at info@totter-midi.com
Check it out all products HERE .