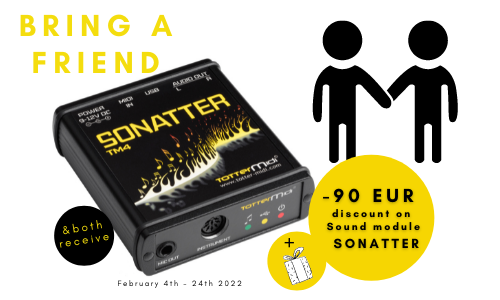 SONATTER will bring your MIDI device to new height! Bring a friend to TOTTER MIDI!
Dear accordionists! We are happy to announce that now at our company you can take advantage of our special "Bring a friend" offer.
Bring a friend, relative or neighbor to us and both get – 90 EUR discount on the sound module SONATTER for accordion.
In addition, you also receive a nice PRESENT.
Visit us at TOTTER MIDI d.o.o., Muljava 6, 1234 Mengeš, Slovenia every working day from 8 am to 4 pm.
The offer lasts from 4th till 24th February 2022.
More about SONATTER you can read HERE.
Orders or questions: info@totter-midi.com.
We are happy to provide you with professional advice or help at your purchase.
Want to know more about us and our products? Visit us at: