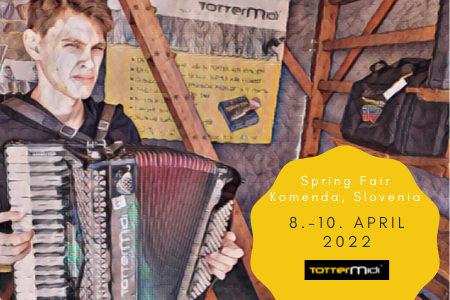 To the fair for a TOTTER MIDI!
The TOTTER MIDI team invites you to the Spring Agricultural and Craft Fair, which will take place between 8. and 10. April 2022 in Komenda, Slovenia.
We will present our MIDI and MICROPHONE systems for accordions and the sound module SONATTER. Accordion and speaker bags will be also available. Visitors to our booth will be able to try out many options and solutions and learn about the benefits of TOTTER MIDI products.
FAIR BENEFITS
Anyone who brings the accordion for installation to our booth will benefit from
the fair savings – 80 EUR when purchasing one of the models: TM4-LUX, TM4-S, TM4-N,
TM4-BK, TM4-B. More about the models can be found HERE.
After the installation, you pick up the accordion on our address in Mengeš, Slovenia.
Come to play your favorite song in an amazing imitation of a alpine trio or quintet.
Welcome to the TOTTER MIDI booth – hayrack (originally called kozolec).
We look forward to your visit!
There is no entrance fee to the fair. Free parking is provided.